Bias Resume Shredder
For disobedient electronics, we need to make an object that meets the tech and critic side of the triangle. I build a shredder that shreds resume of applicant who fails to meet the "hidden" criteria. The definition of a qualified candidate has been blurry in a job hunt, especially in Taiwan. Western people have a higher chance of getting an english teaching position in nursery schools, not because they are more skillful at the language but because they are Caucasian. A pregnant applicant gets rejected because she is expecting to miss a few weeks of work due to labor or maternity issue, which then will cause a great impact on the company's profit. Furthermore, older people were perceive to be less productive, less creative, and have more health problems.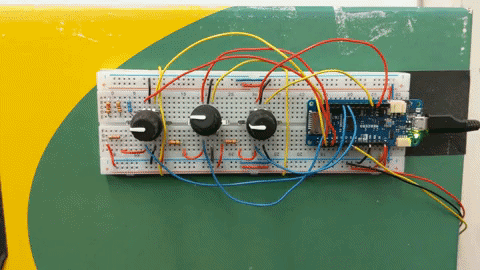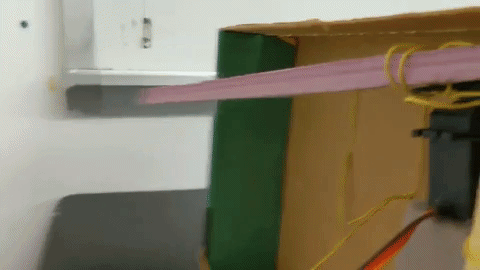 The shredder has three inputs – age, gender, race. It decides whether to trigger the shredder depending on your input combinations.
Arduino Source Code:
1

2

3

4

5

6

7

8

9

10

11

12

13

14

15

16

17

18

19

20

21

22

23

24

25

26

27

28

29

30

31

32

33

34

35

36

37

38

39

40

41

42

43

44

45

46

47

48

49

50

51

52

53

54

55

56

57

58

59

60

61

62

63

64

65

66

67

68

69

70

71

72

73

74

75

76

77

78

79

80

81

82

83

84

85

86

87

88

89

90

91

92

93

94

95

96

97

98

99

100

101

102

103

104

105

106

107

108

109

110

111

112

113

114

115

116

117

118

119

120

121

122

123

124

125

126

127

128

129

130

131

132

133

134

135

136

137

138

139

140

141

142

143

144

145

146

147

148

149

150

151

152

153

154

155

156

157

158

159

160

161

162

163

164

165

166

167

168

169

170

171

172

173

174

175

176

177

178

179

int

lastButtonState2

=

0

;

int

lastButtonState3

=

0

;

int

counterAge

=

0

;

//max

int

counterGender

=

0

;

//max4

boolean

genderOk

=

false

;

long

positionGender

=

-

999

;

long

positionRace

=

-

999

;

long

newAge

,

newGender

,

newRace

;

newAge

=

knobLeft

.

read

(

)

;

newGender

=

knobRight

.

read

(

)

;

if

(

newAge

!=

positionAge

)

{

//compare how its changing, if - one way, if positive one way

if

(

newAge

>

positionAge

)

{

if

(

counterAge

>

20

&&

counterAge

<

30

)

{

Serial

.

println

(

counterAge

)

;

if

(

newGender

!=

positionGender

)

{

if

(

newGender

>

positionGender

)

{

positionGender

=

newGender

;

if

(

newRace

!=

positionRace

)

{

if

(

newRace

>

positionRace

)

{

}

else

if

(

counterRace

==

1

)

{

Serial

.

println

(

"Hispanic"

)

;

}

else

if

(

counterRace

==

2

)

{

Serial

.

println

(

"Caucasian"

)

;

Serial

.

println

(

"African American"

)

;

// Serial.println(counterRace);

buttonVal

=

digitalRead

(

buttonPinAge

)

;

if

(

buttonVal

==

LOW

&&

lastButtonState

!=

buttonVal

)

{

Serial

.

println

(

"age qualified"

)

;

buttonVal2

=

digitalRead

(

buttonPinGender

)

;

if

(

buttonVal2

==

LOW

&&

lastButtonState2

!=

buttonVal2

)

{

Serial

.

println

(

"gender qualified"

)

;

buttonVal3

=

digitalRead

(

buttonPinRace

)

;

if

(

buttonVal3

==

LOW

&&

lastButtonState3

!=

buttonVal3

)

{

Serial

.

println

(

"race qualified"

)

;

if

(

!

genderQualified

||

!

ageQualified

||

!

raceQualified

)

{

lastButtonState

=

buttonVal

;

lastButtonState2

=

buttonVal2

;

lastButtonState3

=

buttonVal3

;

for

(

pos

=

0

;

pos

<=

90

;

pos

+=

1

)

{

for

(

pos

=

90

;

pos

>=

0

;

pos

-=

1

)

{
---