Last Sunday, Arnab get all of us to go to the Toyfair NYC. Hundreds of exhibitors from all over the world came and covered up two full floors of Jacob Javits Convention Center. It took me approximately 3 or 4 hours to skim through them at the very least.
This year's trend must have something to do with sensory objects. Multiple variations of putty toys were introduced, each showcasing different rigidity, materials, or elasticity.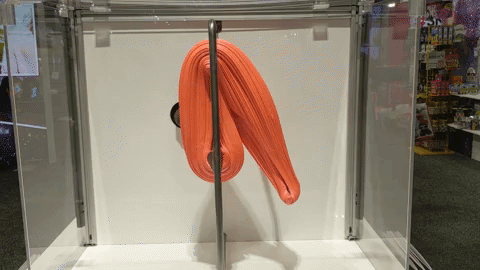 I came across a booth with a product called SculptaPalooza, the Squishy, Squashy, Sculpting Party Game. It's a package that comes with a Playfoam, some game cards, a dice and a timer. Unlike other putty toys that relies heavily on ones' imagination, users will be given constraints! In a given time, the player will be given instructions on how and what they should sculpt. Then their team members have to guess it.
What the Creator Says:
Playfoam is carried by Educational Insights, a company that focused on preschool market. They sell individual foams as well as other kit combinations. While SculptaPalooza is their first game designed for older children, ages 10 and up; they did propose instructions on how to include younger players. It is made with safe and non-toxic material, but can still be dangerous for kids as it has the capability to choke them.
What Parent and Kid says
The product is listed as Amazon's Choice and best seller in the toys & games and learning & education toys category. They got 4.7 out of 5 stars in customer reviews. They could see similarities with the game Pictionary or Charades. All three are fast-paced multiplayer games that stimulate players' imagination and creativity, and they have to race with time. The fact that is built on top of a game everybody is familiar with, makes the instructions pretty simple to understand.
They loved how they took a seemingly solitary, kiddie toy and turned it into a party game where adults could enjoy. Some still wish it could be more accessible to the younger audience for more families to enjoy. As we can see, they did not include children across all their promotional materials.
Another common complain was with the use of materials. They think that the foam can not hold itself very well and would rather use Playdough as substitute to it. But others disagrees as they said it adds silliness and challenges to the game.